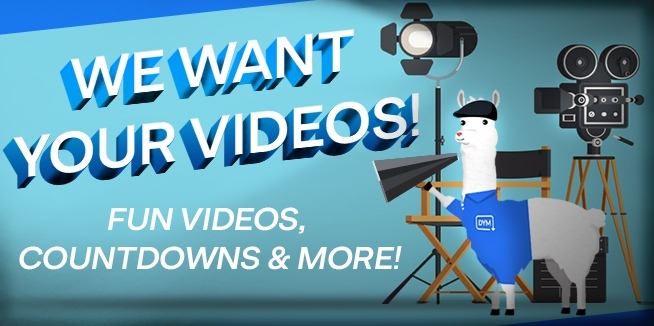 Hey Friends,
We hope you're having a jam-packed and fun summer season with your students. Sweet, sweet victory after spending last summer online, right?
We can't wait for this Fall/back-to-school season and want to tell you about an exciting upcoming opportunity.
WE WANT VIDEOS!
We're growing our video resource inventory! It's an exciting time to grow with DYM and better serve the youth worker community with awesome video resources.
We know there are lots of different kinds of videos. Specifically, we think interactive, welcome, pre-service countdowns, and funny videos are going to do really well on the DYM site. For more info, check out this article that will explain exactly what we think will crush with us.
WE WANT TO HELP YOU WIN...HERE'S HOW
In order to get video resources to youth ministries in time for starting the Fall season, we're going to:
SPEED UP the 'submitted to published' time for video resources, getting you your royalties faster than ever

MERCHANDISE and MARKET video resources strategically, making your video resources more visible to our audience
IS THIS OPPORTUNITY FOR YOU, OR SOMEONE YOU KNOW?
If you create awesome videos, we want you to submit them to DYM so we can publish them ASAP for the Fall. We're excited to get you and your work in front of our audience of customers who are ready to buy your resources for their fall programming.
This could also mean that IF YOU KNOW ANYONE who has amazing video chops, this is your chance to share the opportunity to become a DYM creator! Who could you encourage to contribute to our library of resources that help youth workers crush their weekly programs?
If there was ever a time to jump back in, this is it.
"WOAH, I'M IN! NOW WHAT?" GLAD YOU ASKED!
Do not miss reading this article - it's got the insight we've gathered to give you clarity and inspiration.
Prepare your submission according to the DYM Video Submission Guidelines
Submit your resource to this Video Pipeline - that's right, right now we want you to send your video submissions to this link instead of the traditional Pipeline App you normally use!
Encourage friends to do the same!
Together we can offer valuable videos to our community this upcoming Fall season. We're looking forward to highlighting you and all of your incredible resources as we kick off another school year in just a few short weeks!
Your work impacts hundreds of thousands of youth ministries around the globe! We're so grateful for the ways you invest in others, both in your ministries and beyond!
Blessings!
Doug, Josh, and the DYM Team
Submit your video to the Video Pipeline