Do you have a suspended membership?  
"Suspended" means our computer robots tried to charge your account to renew your membership and the charge did not go through -- it looks like it failed because you do not have a valid payment method on file.
So... right now you DO NOT have access to your DYM Membership: that means NO store credit and NO monthly membership resources. Yikes! 

Not to worry! It's a very easy fix and you will be back in the DYM membership bosom without skipping a beat.
(You haven't lost access to any of your previous downloads either.)

We would HATE to loose a beloved member because of a technical issue (or any other issue for that matter), so please reach out if you have any questions. 
**If you suspended your membership with the intention to CANCEL it, please do so! We don't want to send you these annoying emails if they don't apply! 
+++++
(if you have already tried this method of reactivating your account, go ahead and try it again. We just made some tweaks to the system and any past issues you have run into should be fixed!)
To re-activate your account:
1. Update the credit card info in your account ...
Click on "Manage My Credit Cards" in your account tab.
- If you have a credit card on file then delete that card and "add a new payment method" even if it's the same card.
- If you don't have a card on file then "add a new payment method."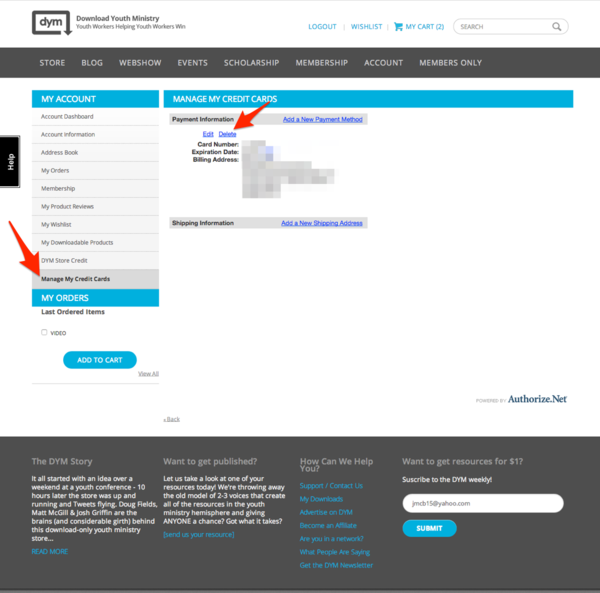 2. Click on the membership tab in your account and click "Activate" on the suspended membership.

3. The LAST STEP in the process is to click the "Modify Recurring Profile" button...

THEN select the correct card from the dropdown and click Continue:



CONGRATS, you are finally finished!! 

Your card will be charged and your membership will be reactivated AT THE TOP OF THE HOUR. That means if you re-activate at 9:35am, our robots will charge your card at 10:00am.

You will know if the payment went through because you will have access to your members only page and reward points after the top of the hour.


+++++++++++++++++++++++++++++ 

Please let us know if you have any questions or if there is anything else we can do to help you lead your ministry better. Just email membership@downloadyouthministry.com
Thanks for loving students!
The DYM Team
p.s. If this article was helpful, give us a thumbs up below.